HELLO, WORLD!
Do you have general questions about the game? Are you with the press and need more info? Need relationship advice, handy baton-twirling tips, opinions on small rodents as pets? Ask Sparky: sparky@theycamefromhollywood.com.
Are you a publisher? We're still planning to self-publish, but if you really, really want to, you can email Sparky anyway: sparky@theycamefromhollywood.com.
Note: It's awful nice of you to offer, but we're not hiring and most likely never will be. Please, don't ask us for a job. You really wouldn't want to work in our living room...we keep very strange hours, Lars listens to terrible '80s music, and the whole place is freakin' covered in cat fur.
JUST TELL ME WHEN IT'S DONE
Want to be notified when we get close to shipping? You'll be the first to know if you send an email to pingme@theycamefromhollywood.com. Please put "PingMe" in the subject line somewhere so it gets sorted properly and you don't end up in the file with the...you know.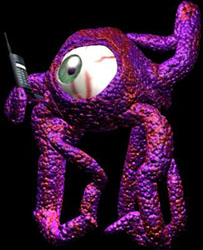 PRIVACY POLICY
Octopus Motor will never sell, trade, rent or loan your email address to anyone else. That would suck.
We will never make our email list available to any other company -- it is used only by us. We hate spam and will not spam you without your consent. Consent, you say? Yeah, some people like to be spammed. Then again, some people like to be spanked, tied up, eat "Ham N' Cheese Hot Pockets", listen to Bananarama, or watch reruns of "Who's The Boss?". Live and let live, we say. But we don't swing that way, so don't worry about us spamming you.